Here's a couple of cool items I got on Ebay. I remember seeing the keyrings at the checkout in the auto part stores back in the 80's and it's red like my car. And the patch is cool. Both brand new and for under $10. each. How can you beat it!
This is a road sign I spotted down in Georgia....so I had to get a picture!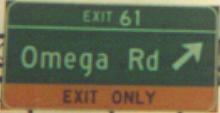 I know the Omega sponsership isn't Oldsmobile but....Well damn, look at them!
Here's a couple examples of toy Omega's from dealerships. The gold one has been modified by Gary to match his car, which can be seen in the "Readers Rides" gallery.